You are here: Home » News in the Dump , recent » Does Death Solve All Problems?
A little more than two weeks ago, there was a man who jumped onto the train tracks at Queenstown MRT Station. This followed a string of undisclosed suicide attempts by Queenstown residents for the past few months. In May, a Chinese man in his 30s or 40s committed suicide at Block 151 Mei Ling Street. Earlier this month, an elderly man living in Mei Ling Street attempted to slid his wrist but he was fortunate enough after he was discovered by a social worker. Does Death Solve All Problems?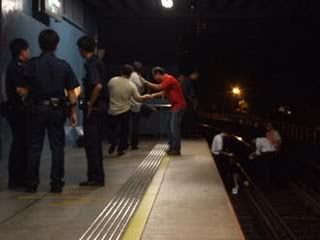 Police Investigation (Photo Sent By Resident)
It was reported in the Chinese dailies that the man who fell off the tracks was a 41 year old Chinese, Mr Lee Teck Meng, who lost all his money, probably due to gambling, and decided to end his life by jumping onto an oncoming train. This unfortunate mishap resulted in train services being abruptly halted at 8.15pm and over 13,000 commuters were affected. Train delays caused by impulsive individuals attempting to end their lives were nothing novel today.
In May, MyQueenstown Team was alerted by Mei Ling residents that a Chinese man had committed suicide by jumping from 7-storey at Blk 151 Mei Ling Street. Videos and photos of his last "breathe" was posted in our facebook wall page but was subsequently taken down. Aunties and uncles who frequent the area told us that the man's grieving mother was on her way home when she witnessed her son's folly act. It was believed that the man had a mountain of debts to clear. He left behind a wife and two young children.
Lately, we understood from social workers that there was an elderly man living in Mei Ling district attempting to commit suicide. He was living alone and his sons were not taking care of him.
He would visit the community leader frequently for assistance. After the attempt, h
e was taken to the Institute of Mental Health for treatment. When MyQueenstown Team observed the old man, he had bruised scars all over his arms.
Life is precious. Cherish life.
SMS 91769891 if you know anyone who needs help.
CALL 90480447 if you need a social worker assistant to talk to.
Category: News in the Dump , recent
If you enjoyed this article, subscribe to receive more great content just like it.