You are here: Home » Home , People , recent » Home Sweet Home #15 - A New Day Has Come =)
Last week, MyQueenstown team interviewed Mdm Chan about her life in Blk 15 Holland Drive. Under SERS, she was assigned a new apartment in the newly developed blocks just a stone throw sway. Today, we visit Hisham Suni, 38, who moved over from Blk 17 to his new apartment in Blk 18C Holland Drive.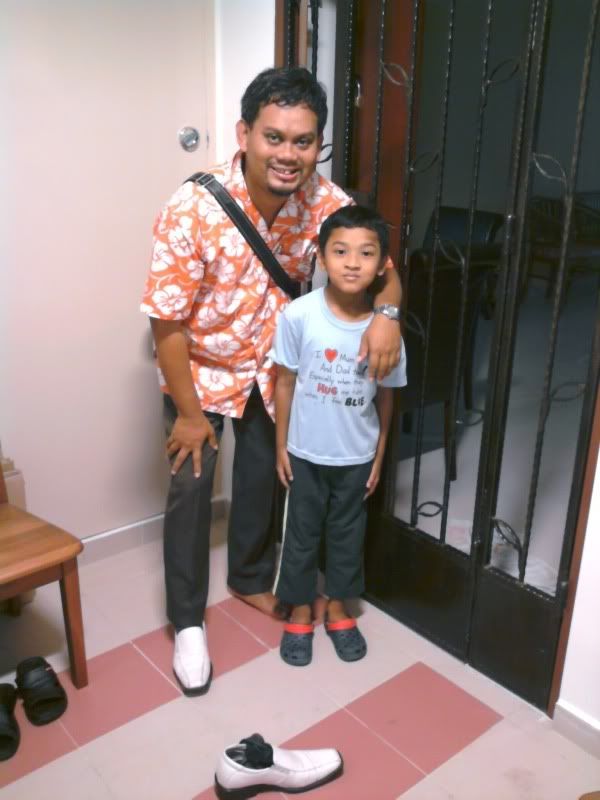 Hisham Suni and his son =)
Hisham is delighted by his new apartment as there was a pleasant shift in his living environment, which was worn down in its terminating stages. In addition to the larger dimensions, Hisham exclaimed that he did not have to top up any extra cash for his new house! He upgraded from a 3 room flat to a 4 room. Even the process of changing houses was hassle free. He liked the way HDB handled the shift and he only had to visit the main office 2 to 3 times over the entire process.
The new blocks of flats has many facilities such as playgrounds, fitness stations and Hisham's favorite sheltered pavilion to chit chat with neighbors during the evenings. There are wheelchair accessible slopes all around and the lift serves every level, unlike his old flat which does not.
Potted plants of Orchids Outside Hisham's House
Hisham sold his flat back to the authorities for a lump sum amount of cash, while he bought his new one with his CPF. He is very satisfied with the exchange and now has a sum of money for his mother's retirement. While not willing to depend on the sum of money as pension for himself, the licensed tourist guide works part time and enjoys it thoroughly.
While strolling with Hisham on the ground level during the interview, we noticed that he knows almost every resident who walks past. Hisham believes in the 'Kampong spirit' which he fights to preserve, by taking the initiative to greet his neighbors. He even go as far as to visit a sick neighbor when he did not appear in a while for chit chat sessions.
Category: Home , People , recent
If you enjoyed this article, subscribe to receive more great content just like it.