You are here: Home » About Us , recent » Blog Ratings March 2011
2011 is the year when numerous familiar buildings in Queenstown will be demolished. MyQueenstown Blog, which captures the memories of residents, students and ex-acquaintance of the estate, has seen a substantial increase in our daily blog readership.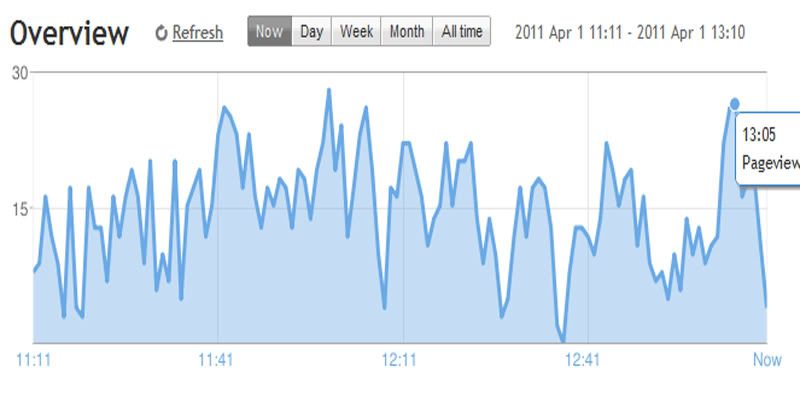 Readership on April 1 11:11 to 13:10
In two hours on a weekday morning (where ratings are usually very low as many are working and studying), MyQueenstown Blog recorded an average readership of about 10-13 unique visitors per minute or about 1500 readers in 2 hours. Exclusive features on places such as Commonwealth Avenue Cooked Food Centre (Margaret Drive Hawker Centre) are among the most popular.
In just 2 hours, there are over 800 unique viewers reading the post on the removal of hawkers at Margaret Drive Hawker Centre although the article was posted about one month ago. To date, there are over 56,500 views for that post as the article has been circulated around other major forums such as hardwarezone and sgforum alongside other blog posts about Queenstown Cinema & Bowling Alley, Queenstown Sports Complex and KTM Tracks.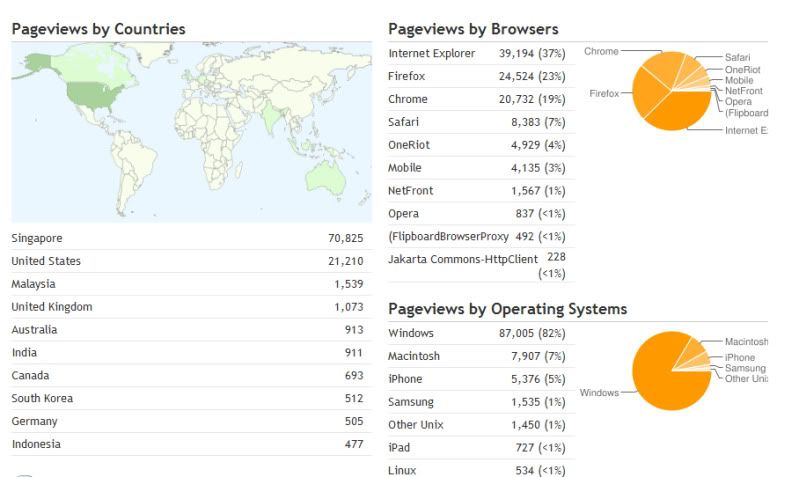 Weekly Ratings 25-31 March 2011
In the past one week, our blog has attracted over 106,600 unique views. Credibility and neutrality are our core principles when we write each article. Every allegation or opinion in the post are well substantiated with photographs (of the interviewee). We are not affiliated to any business or political ideology and we remain committed to improve our content.
Our All-Time Top 10 Posts:
#3 Restricted Access@MyQueenstown #2 - Palace KTV 69,290 views
#5 Restricted Access@MyQueenstown #7 - Ayer Rajah Camp (Part 1) 64,125 views
#7 Restricted Access@MyQueenstown #8 - Ayer Rajah Camp (Part 2) 57,240 views
We are proud to be the content provider for Queenstown's newsletter, which has a circulation of 18,200 household. We will administer our principles and practices while writing for the newsletter. The second issue of the newsletter will be ready by May 2011.
Finally, MyQueenstown Team would like to thank all residents and readers for their continuous support =)
MyQueenstown Team
If you enjoyed this article, subscribe to receive more great content just like it.