You are here: Home » Home , People , recent » Home Sweet Home #12 - Choo! Choo! The Train is Coming!
Its is just another typical weekday afternoon where children can be heard playing outside after school, and delicious scents of home cooked food can be detected from a block away. Mdm Yati, 38, is a mother of 6 children and lives in Blk 55 Commonwealth Drive. Living in Commonwealth Drive for more than a decade, she has brought up her children into teenagers in the place where they now call home.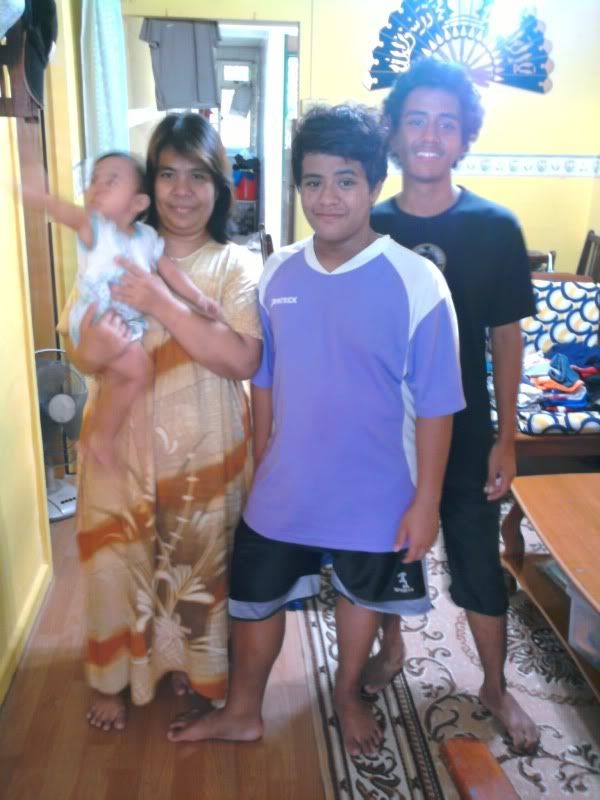 Yati and her Family at Block 55 Commonwealth Drive
Blk 55 is one of the few HDB flats which are situated so near to the KTM tracks. Located just an estimated 20 metres away from the tracks itself, the KTM has brought many problems as well as joy to the residents there. Yati explained that only a few years ago, they were living in constant fear of reptilian creatures such as snakes and huge lizards from the forested areas just beyond the tracks. In addition, there were frequent mosquito and insect invasions in the night. However, in recent years the forestry was cut further back from Blk 55 by the authorities and the problems gradually ceased.
Their Home Sweet Home - Which is next to the KTM Tracks
The KTM trains themselves have been a common sight and sound of residents in Blk 55. Mdm Yati commented that she often gets a shock during her afternoon naps, when the sharp and loud train blasts its warning horns. The train itself has not been causing any noise hazards but the real problem lies in the warnings horns. 'Aiya we live here so long already seasoned to it,' commented by an amused Mdm Yati.
Blk 55 has been a conducive place for her kids to grow up in, as there are many places for her kids to play in. The newly renovated playground just beside her flat and the street soccer court across the road has brought many laughter to Luqman and his siblings. It is also easy for Mdm Yati to monitor her young children in the playground, as she could just peep through either her front or back door.
The void deck of Block 55 where Yati's children spent their childhood
On a final note, Mdm Yati would continue to live in Blk 55 for as long as she can. She would miss the sights and sounds of the terminating KTM trains as her family have grown that used to it.
Category: Home , People , recent
If you enjoyed this article, subscribe to receive more great content just like it.