You are here: Home » Farewell , recent » Farewell MyQueenstown #6 - The Taste of Wanton Noodle Lingers...
Mr. Phoon Hon Sun, 64, and his family started selling barbeque pork from a pushcart at the terminal for Hock Lee bus service no.9 some 53 years ago. The bus terminal was located next to Blocks 6B and 7 along Margaret Close, a cluster of flats which were demolished during the 1990s.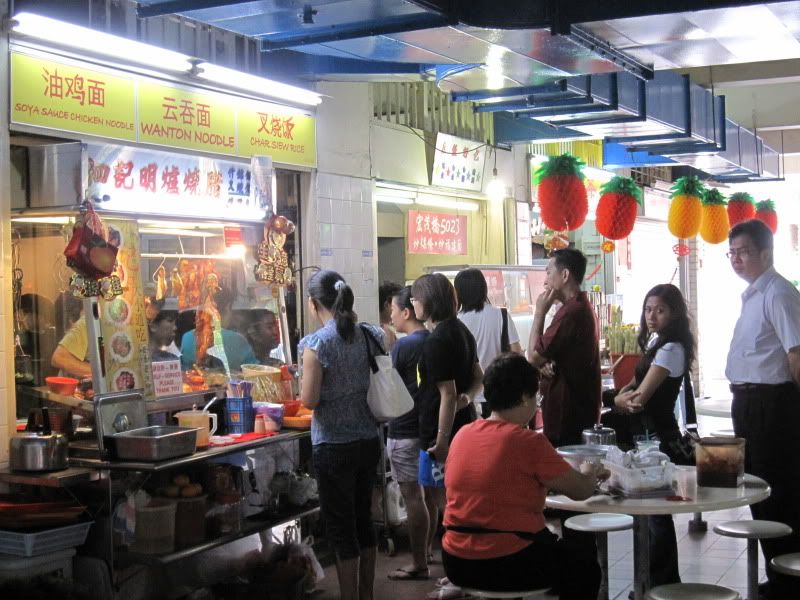 Every afternoon, residents who lived in the seven storey apartment flats at Margaret Close would holler their orders and lower a basket with money. Thereafter, Mr. Phoon's father would place their food and change in the basket before the resident start winching his meal up. The empty plates of noodles were then left by the door for collection in the evening.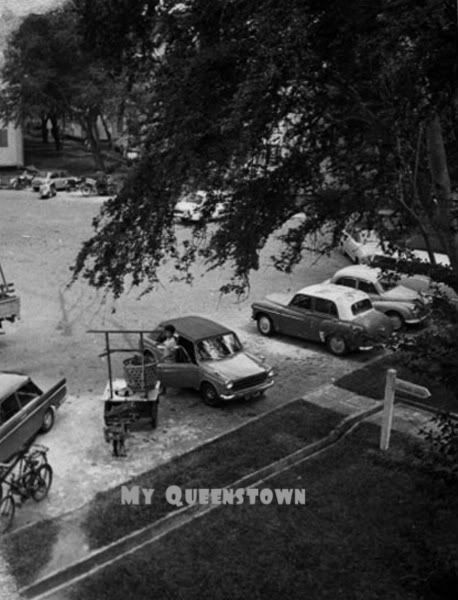 Mr. Phoon's father pushing a pushcart
When the cinemas opened in 1970, Mr. Phoon and his family peddled their trade under a makeshift tentage in front of the cinemas. Kerosene lamps were used to light the mini tentage. Mr Phoon had to pump in and out the kerosene into a funnel within the lamps. Furthermore, whenever he needed water to wash the utensils, both Mr. Phoon and his brother had to go to the washing point next to the "toilets" to fill up 3 or 4 buckets. After several warnings and fines from the environmental officers, he had no choice but to move into the hawker centre.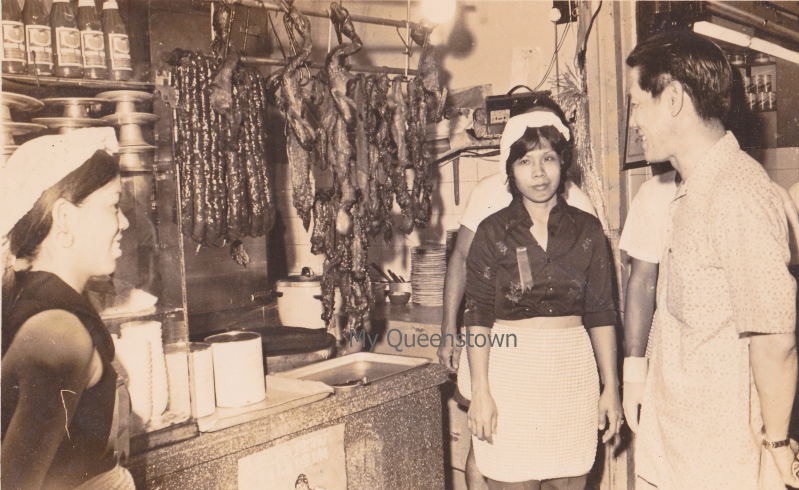 Mr. Phoon's sister at the inaugural Clean and Green Week
Mr Phoon's father and younger brother
Margaret Drive Hawker Centre was a repository of affections and memories for Mr. Phoon. On one hand, he met his lifelong companion, who was an avid moviegoer. His wife would visit the cinema every weekend and come to his wanton noodle stall afterwards for lunch. After several conversations, they get to know each other.
On the other hand, he lost his beloved mother and younger brother to a gruesome murder at the hawker centre in the mid-1970s. He mentioned briefly that the 'fried oyster' uncle was jealous that his wanton noodle was very popular and customers often had to "sit" on their tables. (In those days, there weren't seats at the hawker centre. Individual stallholders are required to bring their chairs and tables for the customers.)
In light of its imminent demise, Mr. Phoon was bereaved and disconsolate. He said, "I spent my whole life here. How I wish I can stay here forever."
Editor's Note: Mr. Phoon tried to find a stall in beach road to continue his BBQ stall business. Unfortunately or fortunately, he was unable to get one. He has decided to retire.
If you enjoyed this article, subscribe to receive more great content just like it.