You are here: Home » Random , recent » Random Thoughts @ MyQueenstown #2 - the Blue Bridge
The weather tonight was cool and breezy. I took a stroll around Mei Ling estate and captured some decent photographs of the nighttime scenery. Most of the shops were closed and the void decks were eerily quiet and void of residents. There were occasional crows from the birds as they flew back to their nests in unison.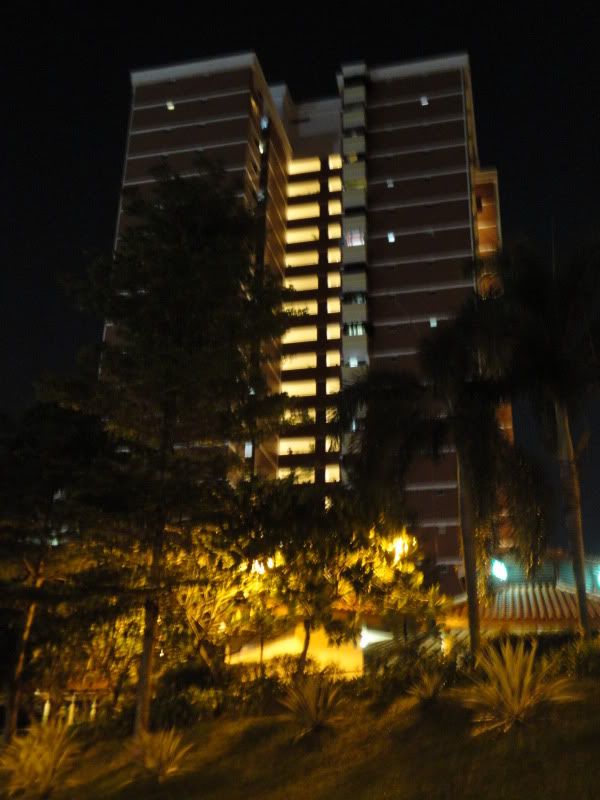 A Quiet Night in Mei Ling
The pedestrian path along Mei Chin Road was rather dim and dark. I wondered how many elderly folks and women felt safe walking along this street if the floodlights at the stadium were not switched on. The recent spats of youth violence were pretty daunting. And this combination of fear and frustration had apparently made me a bit more "vigilant" while walking along the streets looking for "suspicious" characters. Was it a commendable behaviour from a civic minded resident? Or was that a sign of distrust on the security forces who were supposed to alleviate the residents from these sorts of worries?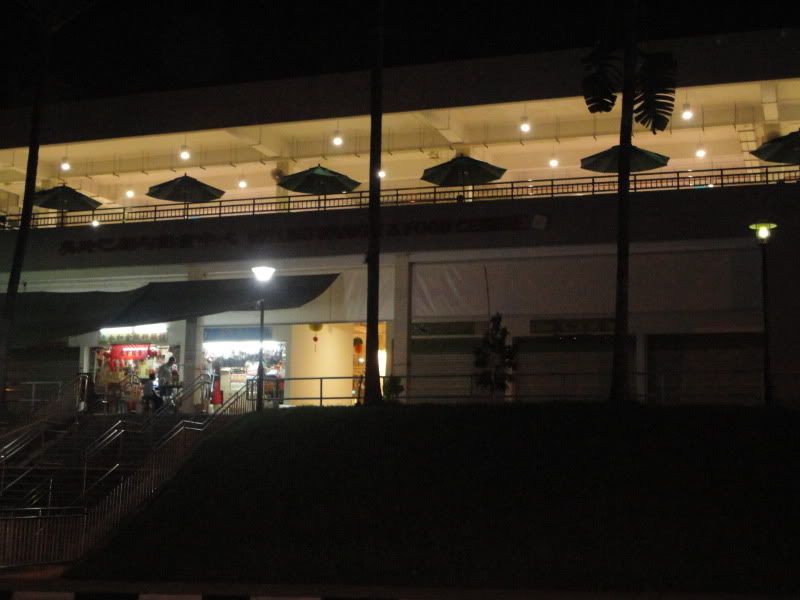 The movie screening held monthly to revitalise the aging Mei Chin Market Area was a remarkable move. Our requests and feedbacks to the relevant authorities had been heard! However, it was disappointing to know that only a handful of the store owners were supportive of the event and delayed their closing hours to serve these elderly folks who went for the free screening. I lifted my head and looked at the Mei Chin Market - with despair. It was only 7.30pm. And the market, along with the shop houses, was closed. And the market was darker than black.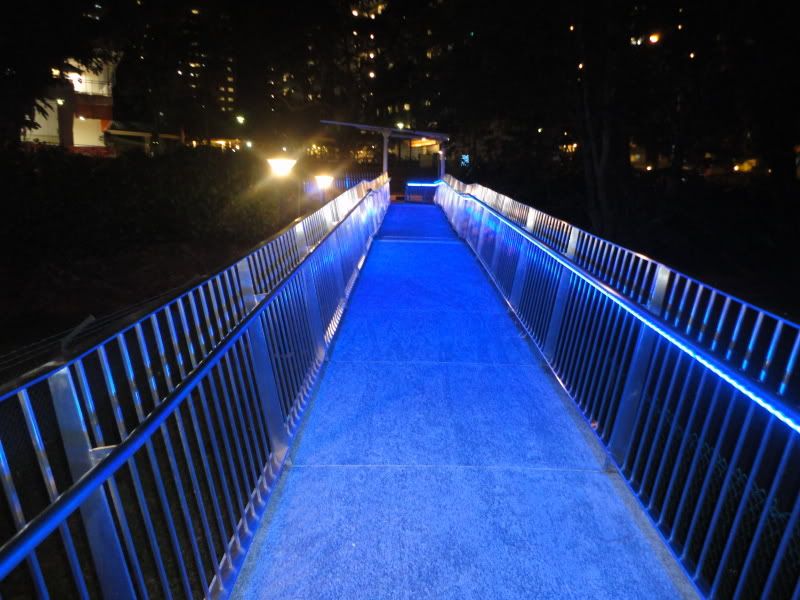 I had an appointment at Tanglin Halt at 8pm. There were neither public buses in Mei Chin Road that could take me to Tanglin Halt nor was it wise to walk back to Commonwealth Avenue. Hence, this blue bridge was my favourite mode of "transport" which connected me from Mei Ling to Tanglin Halt. And it was easier to locate the entrance of this bridge at night than in the day! While the luminous blue lights made criminals or potential offenders think twice before committing crimes, it provided couples with a perfect spot to date! There were two couples "chatting" and "hugging" while I crossed this bridge. Frankly speaking, I did not see any breathtaking scenery or beautiful rivers accompanying this bridge to create that sort of ambience for this "kind" of activity. Well, at least I learnt about an interesting place in Queenstown today. =)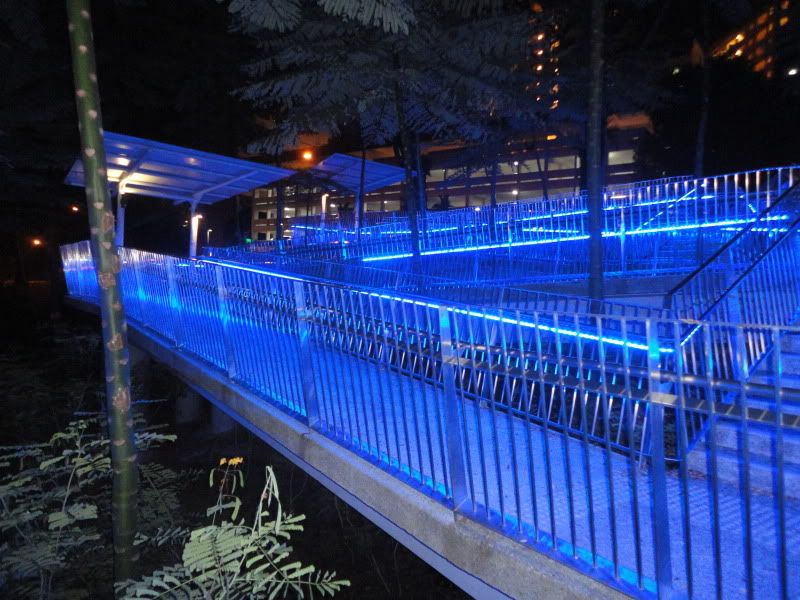 A bridge of Blue Lights and Lovers
Queens' Close was another quiet and sombre estate in Queenstown. The closure of Queens' Crescent market in the early 1990s had make this place more "forgettable" than Mei Ling/Mei Chin estate. However, the residents loved their homes for this very reason despite all the inconveniences in having to walk more than 10 minutes to Mei Ling or riding on a public bus to Bukit Merah to get their groceries and meals.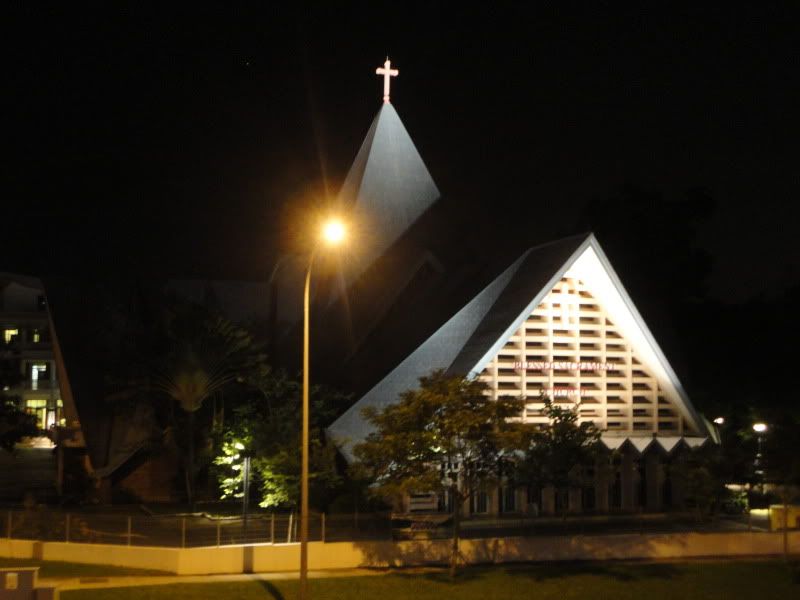 The most beautiful structure in Queenstown at night
I walked along the brightly lighted path behind the Special Operations Command Unit and crossed the overhead bridge linking Queens' Close to Tanglin Halt. I reckoned that this was the only bridge in town where I could see three types of religious institutions, a Hindu temple, a mosque and a catholic church coexisting peacefully. That was something that we used to take for granted. Well, I'm off to my interviews!
Li Yong
If you enjoyed this article, subscribe to receive more great content just like it.