You are here: Home » Kay Poh Club , recent » MyQueenstown Kay Poh Club #6 - What's This Multipurpose Building?
This 2 storey building stands proudly at the junction of Commonwealth Drive and Tanglin Halt Road since 1963. In the past 47 years, the building has been used for different purposes even though the physical features have not changed much. Some residents wonder, "What's this multi purpose building doing in Queenstown?" and believes a school, market or HDB flats can be built in place of this "useless" structure. Hence, MyQueenstown Team will kaypoh kaypoh today again and dig out everything about this mysterious structure sitting in the middle of Queenstown estate.
Queenstown Police Station was built in 1963 and it was located opposite the former Police Reserve Unit II. The Police Reserve Unit hogged the headlines in then when a suspected discharge from a unused revolver had killed a Malaysian woman who was walking along the street. This police station was constructed to provide safety and security in the new neighbourhood against the backdrop of various political events when racial tensions are running high. It housed the Royal Malaysia Police until Singapore's independence in 1965.
Located opposite a Police Reserve
Subsequently, the Police Station "shifted" to Clementi and in her place was the Queenstown Neighbourhood Police Centre. In 1997,
Queenstown was chosen to pilot the Neighbourhood Police Centre system where police officers on the ground to perform more duties, such as investigative work. In 2001, the NPC moved to a temporary premise next to Queenstown MRT Station. Hence, Alexandra Fire Station took over the 2 storey building in 2002 while her original location along Queensway was being refurnished.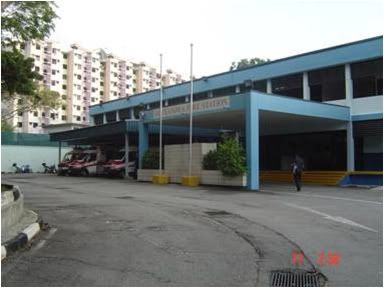 Alexandra Fire Station in 2003
Alexandra Fire Station moved back in 2005, vacating this "antique" building. It was converted into a student hostel and host students, mainly Chinese nationals, who come to Singapore for studies or work.
Category: Kay Poh Club , recent
If you enjoyed this article, subscribe to receive more great content just like it.