You are here: Home » News in the Dump , recent » Queenstown Youths Love Singapore But...
Singapore is probably the only country in the world where lights will shine when you turn on the switch and water will flow when you run on the tap. Efficiency and effectiveness in delivering material needs is what Singapore government stands for. Our love and endearment to this city-stare grows when we visit other countries and during National Day Parades. Most of us will marvel at how far we have transformed from a backward fishing village into a modern globalised city. However, has our love for the country weakened over the years? Let us find out from Queenstown residents.
A straw poll of 25 young Queenstown residents was conducted at Commonwealth and Queenstown MRT today. All 25 residents, aged between 14 and 29, expressed loyalty towards Singapore. However, when asked about their sense of belonging towards the country, an overwhelming 21 out of the 25 respondents felt they no longer recognise their homeland. Why? The three main reasons are given below: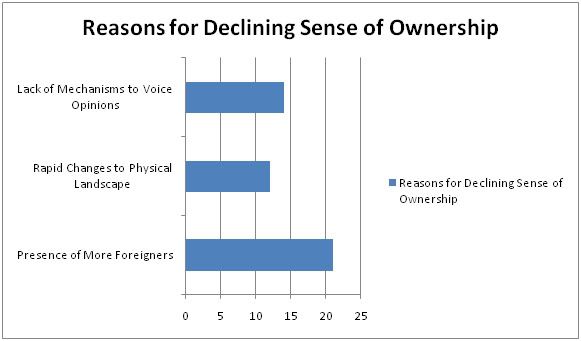 The rapid change to Queenstown's physical landscape does not appear to be the main reason for declining sense of ownership towards the country. Instead, the mere influx of foreigners is the main reason why Singaporeans, particularly Queenstown residents, do not appear to "recognise" Singapore anymore. Young Queenstown residents do not dislike every foreigner. In fact, some of them attribute our cleanliness and order to those hardworking Bangladeshi workers. All of the respondents claim that the problem with Singaporeans' weakening love for the country to the presence of Chinese nationals living, working and studying in Queenstown.
Qing Jing, a student with Bukit Merah Secondary School commented, 'I feel that more Singaporeans should be inside the YOG team instead of 'Chinese' naturalised Singaporeans. This will make us feel proud of the team."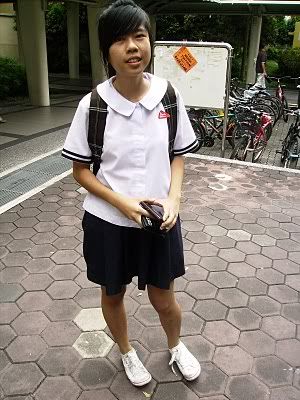 Some call them xenophobia. Some call them "narrow-minded." The result of the survey conducted was not anything new or different from those you have seen elsewhere. There are many reasons, from the way Chinese nationals talk, to the manner they conduct themselves in public. However, the fundamental reason on why young Singaporeans detest this particular group of foreigners lies in the strengthening of national identity among Singaporean Chinese.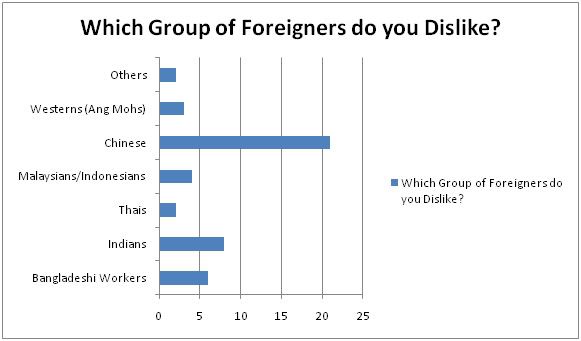 For a big part of social history in Singapore, the loyalty of Chinese immigrants were repeatedly questioned. The proliferation of Chinese nationalism in 1949 and the tumultuous period of Communist-influenced politics in the 1950s had seen many Chinese returned to China or bowing to the rise of China. In those days, many Chinese parents saw the value of English education as a medium of resisting Chinese cultures and values, for fear of being marked as "Communist sympathisers." This dramatic change in the Singapore society is validated by the lack of interest in Chinese-medium schools and the "unreported" failure of Speak Mandarin Campaign. Even though the rise of China in the past two decades has prompted parents to urge their kids to learn Mandarin for its economic value, the Chinese language remains secondary to the universal English language.
The influx of Chinese nationals into Queenstown and other parts of Singapore is not unwelcomed. Residents do appreciate their commitment in making Queenstown a cleaner and better. However, the general sentiment of the public remains unhappy over their aggressive influence on Singapore's culture and way of life. Food has changed. Transport has changed. Workplaces have changed. These ground sentiments are mere resistance towards globalisation of culture and it is normal everywhere, except that heartlanders in other developed countries continue to possess a "space" for their own development. Singapore is physically small. There is no way we can avoid them.
There are many talented Singaporeans who migrated because of this reason while "less talented and committed" Singaporeans were imported to replace them. Cynics who call them xenophobic or quitters have not considered that what happened is a natural progression of the society in searching for their identity. Economic growth may bring material comforts but it can never build a true Singapore identity without recognition of her citizens' concerns or providing civic space for engagement.
These, are the very reasons why Venice, the ancient city-state, has declined.
Source: Dr Sai Siew Min and Dr Lee Soo Ann
Category: News in the Dump , recent
If you enjoyed this article, subscribe to receive more great content just like it.