You are here: Home » Before Dawn , recent » Before Dawn @ MyQueenstown #4 - Early Birds at Tanglin Halt Food Centre (Part II)
Mr Teng was unloading buckets of batter from his van at 3am this morning. Heating the oven and preparing the pancake ingredients at his peanut pancake stall had been part and parcel of his life for the past 40 years. While Mrs Teng was most probably half awake and resting at the benches next to the stall, Mr Teng was roaring away, cleaning his pots and pans while clearing rubbish from the buckets.
Pushing a trolley of batter-filled buckets from his van
Mr Teng sleeps at 9.30pm every night and wakes up at 1.30am the following morning. In the past, he could steal a few winks more and wake up later by arriving at the food centre to prepare the batter. However, the lack of space in his stall means that he got to mix the flour and 'beat' the dough at home. He is thankful that he has saved enough money to purchase a van to transport these heavy buckets filled with batter to the food centre. Otherwise, he will find it "tough" to repeat this routine at his age.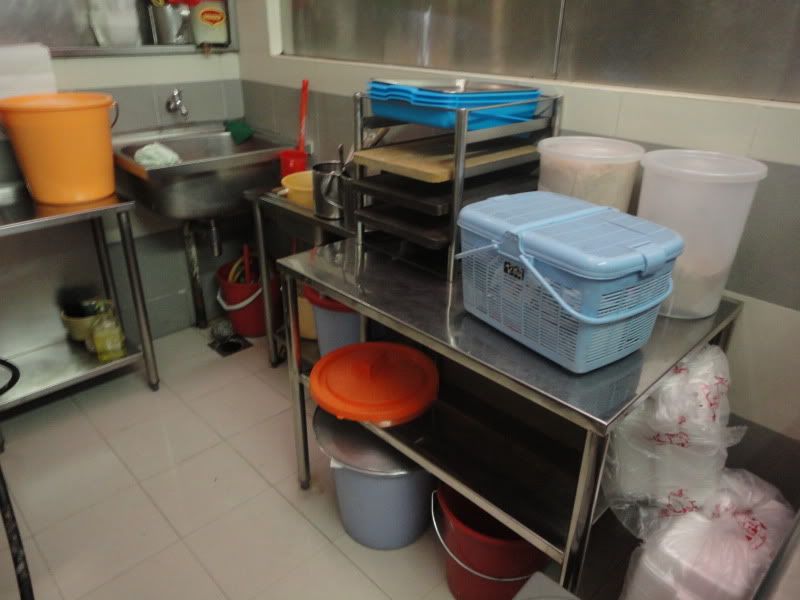 Placing the ingredients neatly on the shelves
Mr Teng takes pride in keeping the stall clean and hygienic. Although heating the oven (which takes only 10 minutes) and preparing the ingredients do not take much time, Mr Teng insists on keeping the interior of his stall spick and span every morning. It is unsurprising that his stall receives an "A" for hygiene!
As soon as Mr Teng has finished organising the interior of the stall and heating up the oven, he would switch on the main lights of the stall and start selling these lovely pancakes (so he usually starts earlier than his "official" opening time at 5am). It has must tiring to sleep so little every day. So what does Mr Teng do at his free time? Every Monday morning, he would go to a factory in Defu Lane where he rent a machine to roast the peanuts and prepare the mixture.
Tanglin Halt's loveliest Couple =)
Next week: Early Morning Taichi at Tanglin Halt
Category: Before Dawn , recent
If you enjoyed this article, subscribe to receive more great content just like it.