You are here: Home » Before Dawn , recent » Before Dawn @ MyQueenstown #5 - Newspapers Distributors in Tanglin Halt
Every morning at 3.30am, Mano, 49, will drive his van to the multipurpose hall in front of Block 28, Tanglin Halt Road. By then, the newspaper distributors from the various publishers would have placed stacks of newspapers neatly at one corner for Mano and his group of foreign workers to arrange them. Different sections of the Straits Times and other newspapers are published in different locations. The Beritan Harian, MyPaper and Tamil Murasu are printed at a factory in Genting Lane; Life (from the Straits Times) at another factory in Penjuru Road; whereas the Classifieds, Home, World (from the Straits Times) and Chinese Dailies are printed at the main publishing factory located at Jalan Ahmad Ibrahim. Hence, it requires newspapers distributors like Rahiman to arrange them together before distributing to every households in Queenstown.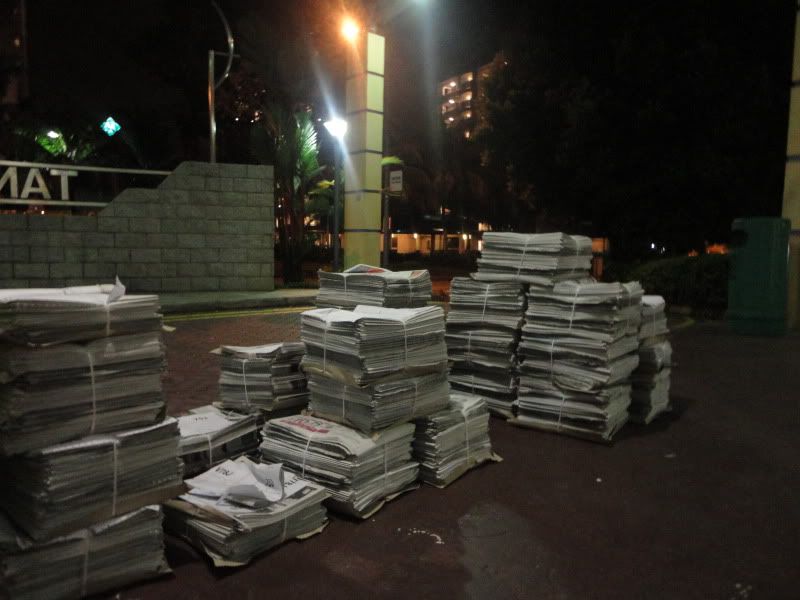 Stacks of Newspapers at Blk 28 to be arranged
Arranging newspapers is Mano's bread and butter for the past 30 years. He sleeps at 4pm in the afternoon and wakes up at 9pm at night to verify these subscribers' particulars before coming to Tanglin Halt at 3am from his flat at Telok Blangah to prepare for the daily battle! There are about 600 households in Tanglin Halt which subscribed to newspapers and it is indeed a mean feat that he can memorise all of them (the location and the type of newspapers residents ordered).
"Speed is the key," he explained. He requires about 1.5hours to arrange the newspapers and he has to deliver them by 6.30am so that residents can receive them before going to work. Of course, there are occasions when residents make special requests. For instance, some residents may choose to purchase copies of NewPaper only during weekends, Chinese dailies once a week or terminate subscription while they are away overseas.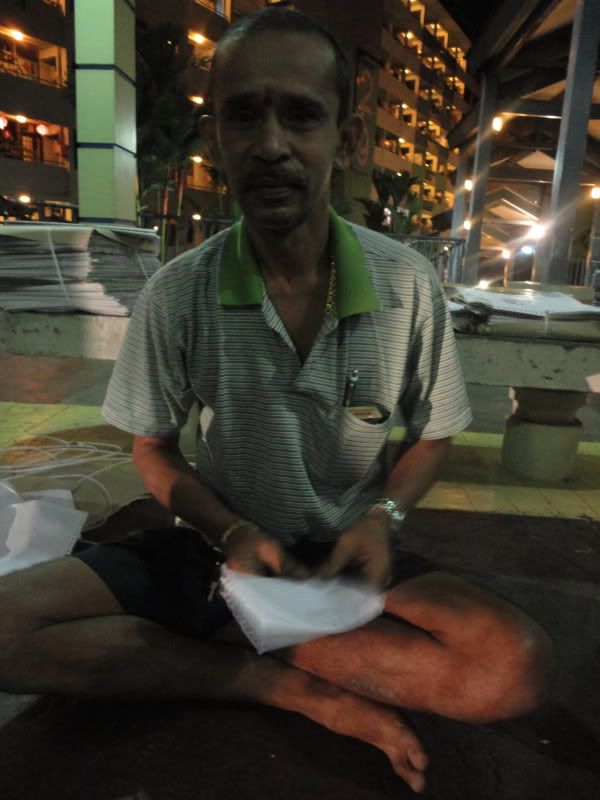 Mano - Our Newspaper Distributor at Tanglin Halt
Mano isn't the only person why we can receive newspapers at our doorstep promptly every morning. Unlike Mano, Rahiman, 59, is another newspaper distributor who delivers Chinese dailies from the publishers at Jalan Ahmad Ibrahim to Tanglin Halt and Margaret Drive every morning. Distributing stacks of newspapers for Mano and co to arrange has been a routine for Rahiman since 1991. He has to drive to the publisher around midnight and wait for the papers to be printed. There are instances when the printers at Straits Times broke down (which is quite often) and he has to deliver them late. This explains why sometimes we receive our newspapers late!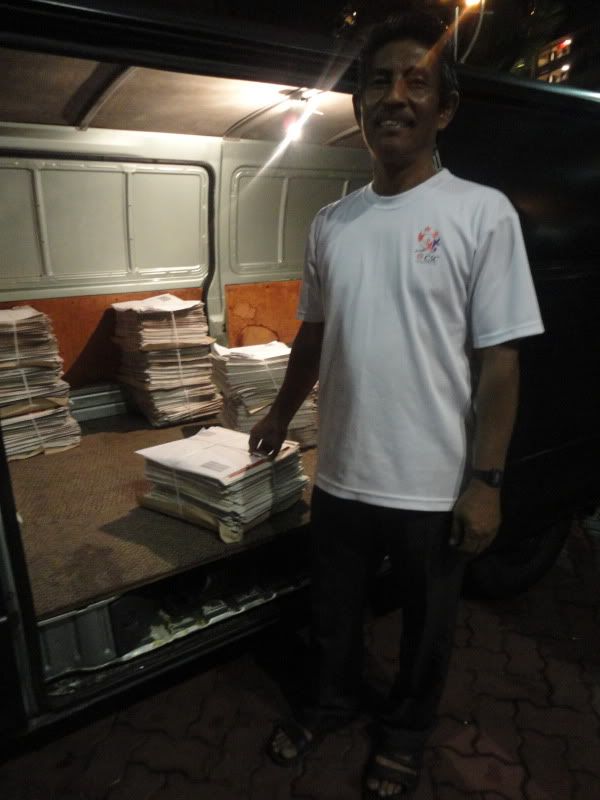 Rahiman - The newspaper "delivery guy"
Every morning, we get to receive our daily dose of current affairs over a cup of hot coffee or tea before getting ready to work. This will not have been possible without the "heroes" braving through the wee hours, rain or shine, and distributing them to our doorsteps. =)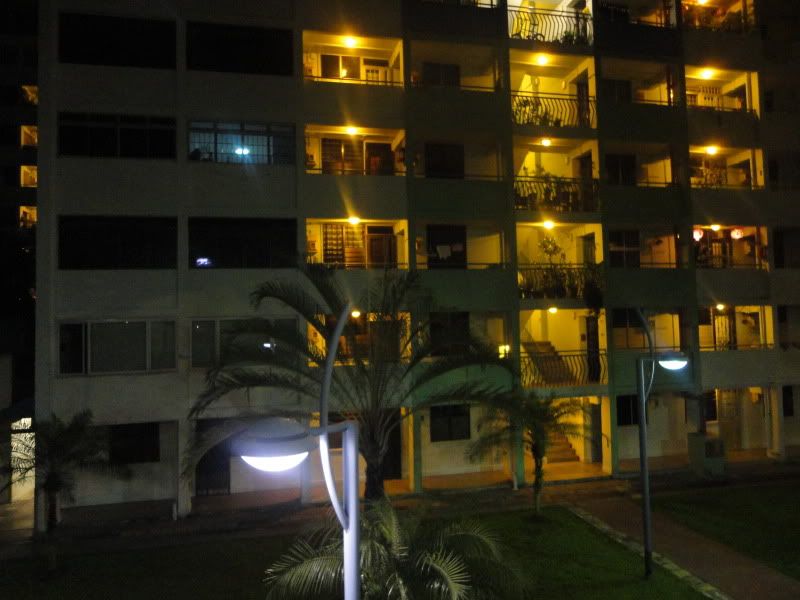 Lights on and it's ready to work! Have you read newspapers in the morning?
Category: Before Dawn , recent
If you enjoyed this article, subscribe to receive more great content just like it.