You are here: Home » recent , Snacks Attack » Snacks Attack #5 - Jia Yuan Vegetarian Food 佳圆素食
There are many residents in Queenstown who turned vegetarian because of religious beliefs or simply voluntary abstinence. Being a vegetarian, in the eyes of some individuals, is a healthier choice. However, it can be difficult for these vegetarians in finding stalls within hawker centres. Nevertheless, MyQueenstown Team chanced upon a vegetarian food stall in Commonwealth Crescent which offers a wide variety of vegetarian snacks. Today, we pick one of their more popular snacks - Soon Kueh!



The delicious looking Soon Kuehs
Soon Kuehs are a kind of
steamed Chinese dumpling made of rice flour skin with chopped turnips strips and mushrooms as filling. Well, the 'soon' actually refers to bamboo shoots. But nowadays, the rarity of bamboo shoots makes it cost-ineffective so most of the modern versions of soon kuehs contain turnip strips instead. It is often accompanied with sweet dark soya sauce and chilli sauce.
Png Kueh is another type of steamed Chinese dumpling which originates from the Teochew migrants who came to Singapore. The main difference between Png Kueh and Soon Kueh lies in their "skin." Png Kueh has a much tougher and more chewy skin. This is because a longer period of time is used to cook Soon Kueh.
Mdm Lim and her sister have been in business selling vegetarian food for 6 years. When asked about their venture into business, they explain that vegetarian food are generally healthier especially Singaporeans are getting more health conscious these days.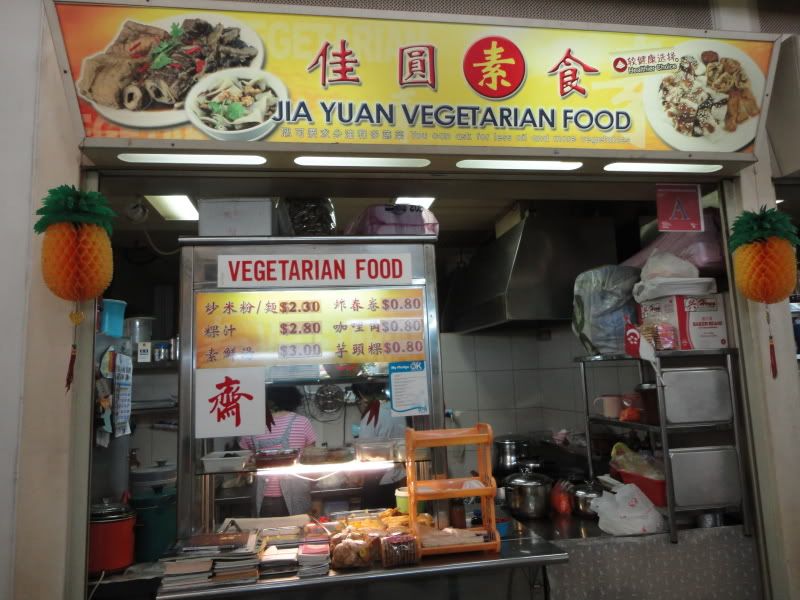 Jia Yuan Vegetarian Food 佳圆素食
Address: #02-88 Commonwealth Crescent Food Centre
Opening Hours: 7am-2pm daily
Snack Attack Ratings: 5/10
Category: recent , Snacks Attack
If you enjoyed this article, subscribe to receive more great content just like it.