You are here: Home » Makan Shiok , recent , Snacks Attack » Snacks Attack #4 - Majeed Muslim Food
It is not easy to scout for traditional, handmade Malay Kuehs in Queenstown because the lengthy and tedious process in making these kuehs are deterring food vendors from making their own kuehs. Fret Not! Right at the corner of Tanglin Halt Market is a Muslim food stall which sells authentic handmade kuehs and the hawker assistants appear to be experienced and professional while making these kuehs.
Goreng Pisang, Kueh Keria and Kueh Apam
For starters or non-Muslim residents, Kueh Apam is a steamed rice cake made from flour and sugar. It is steamed and cut into fanciful shapes. Sometimes, coconut shreds are added to the rice cake to enhance its texture and flavour.
Kueh Keria is a "donut-looking" snack which is made from sweet potato. Sweet potatoes and boiled and mashed before mixing with baking flour and water to form a dough. A donut cutter is used then used to make the donut shape before frying these cute sweet potato rings into a fryer. These fried sweet potato rings are then added into a sugar syrup and stirred until the sugar crystalised onto the surface of the kueh.
Goreng pisang is simply fried bananas with flour.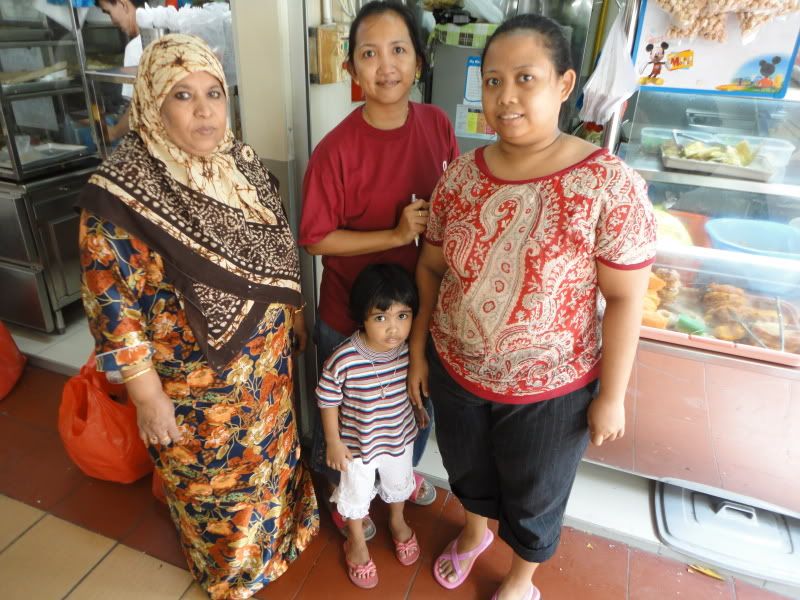 Anna and Kamalia (right and centre)
Anna and Kamalia are sisters and they have been running the stall together for more than 2 years.
The corner stall at Tanglin Halt Market
Majeed Muslim Food
Address:
Block 48 Tanglin Halt Road Tanglin Halt Market Stall 28
Snack Attack Rating: 6.5/10